payment and dispatch

Payment and dispatch

The following terms and conditions apply:

Dispatch conditions

Domestic delivery (Germany) and neighbouring countries: Belgien, Dänemark (außer Grönland, Färöer), Estland, Finnland (außer Aland), Irland, Italien (außer Livigno, Vatikanstadt, San Marino), Lettland, Litauen, Luxemburg, Monaco, Niederlande (außer Überseegebiete), Österreich, Polen, Portugal (außer Azoren, Madeira), Schweden, Slowakei, Slowenien, Spanien (außer Ceuta, El Hierro, Fuerteventura, Gran Canaria, La Gomera, Lanzarote, La Palma, Melilla, Teneriffa), Tschechische Republik, Ungarn.

Dispatch shall not be made to the following foreign islands: Aland, Azoren, Ceuta, El Hierro, Färöer, Fuerteventura, Gran Canaria, Grönland, La Gomera, Lanzarote, La Palma, Melilla, Madeira, Teneriffa, alle Überseegebiete
Please attend that there is currently unfortunately no possibility for a shipment to EU countries. Shipments can currently just be organized within german border . Thanks for your understanding

Dispatch costs (inclusive of legally applicable VAT)

Domestic deliveries (Germany):

We charge a flat shipping fee of 3,95 € per order.

From a order value of 65,00 € onwards, we deliver shipments free of cost.

Deliveries to foreign countries:

We charge a flat shipping fee for international deliveries:

alle hier genannten Länder der EU mit beschriebenen Ausnahmen: 8,95€ brutto pro Lieferung




Delivery periods

Unless otherwise specified in the quote, domestic delivery of goods shall be made (Germany) within 2 - 4 days, for deliveries abroad within 4 - 8 days from conclusion of contract (if advance payment agreed from the date of the payment instruction).
Please note that deliveries are not made on Sundays and other holidays.
If you have ordered articles with different delivery dates, we send the articles together in one delivery if no other agreement has been made. The delivery date for the complete order will be the same as that of the article with the longest delivery time.

In case of self-collection, we will inform you by email once the product is ready, along with the collection options. In this case, dispatch costs will not be charged.

Terms of payment

For domestic deliveries (Germany) the following payment options are available:

- Payment in cash at the time of collection
- Prepayment via transfer
- Payment via PayPal

In case of deliveries to a foreign country, you have the following payment options:

- Prepayment via transfer
- Payment via PayPal
In case of questions, please contact us at the contact details mentioned in the Legal Notice.
Last update: 21st of may 2018
Haendlerbund & Fair Commerce
More safety for your purchase !
We are a certified member of "Händlerbund" association and further support the "Fair Commerce" initiative.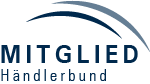 delivery costs
delivery costs within Germany: 3,95€ (each shipment)
free shipping within Germany from 65,00€ order volume for private customers