A9001 - steel4you aluminium bar enlargement for windmill Speedy20 and Speedy20 plus
aluminium steel bar enlargement for windmill types:

Speedy20

Speedy20 plus

The steel bar enlargement is screwable (prepared already) and has a length / height of 33cm.

the thickness of the aluminium bar is 7,5mm.

Please attend, that every bar element can have influence on the stability of the windmill. So please choose your maximum height of your windmill by using bar elements sensibly.
Haendlerbund & Fair Commerce
More safety for your purchase !
We are a certified member of "Händlerbund" association and further support the "Fair Commerce" initiative.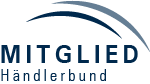 delivery costs
delivery costs within Germany: 3,95€ (each shipment)
free shipping within Germany from 65,00€ order volume for private customers